ECLISSE

Creative Direction

"Vediamo Oltre" - "We See Beyond".
Always in search of technological perfection.
Eclisse is one of the top leaders in the manufacture of counter frames for concealed sliding doors with 30 years of experience and over 40 registered patents, capable of producing 1300 frames per day. It has revolutionized the concept of doors. Easy-to-install and innovative counterframes, with practical and design solutions.






In this campaign, whose illustrations were created by Francesco Poroli, the importance of teamwork is expressed in building the future, looking at it from multiple perspectives.
The binoculars are the symbol of the look towards tomorrow, the two hands that cross represent the value of collaboration. An illustration that incorporates the DNA of Eclisse because seeing beyond, together, is the secret to change.



The brand positioning defined for Eclisse is expressed in the payoff "We see beyond", which responds to the need for a communication that reflects the working philosophy of Eclisse.
"We see beyond" is dynamism and movement, it's the future.
These simple words represent the pursuit of evermore advanced and current perfection, and attention to customer needs. All accompanied by a constant commitment "to see what others do not see."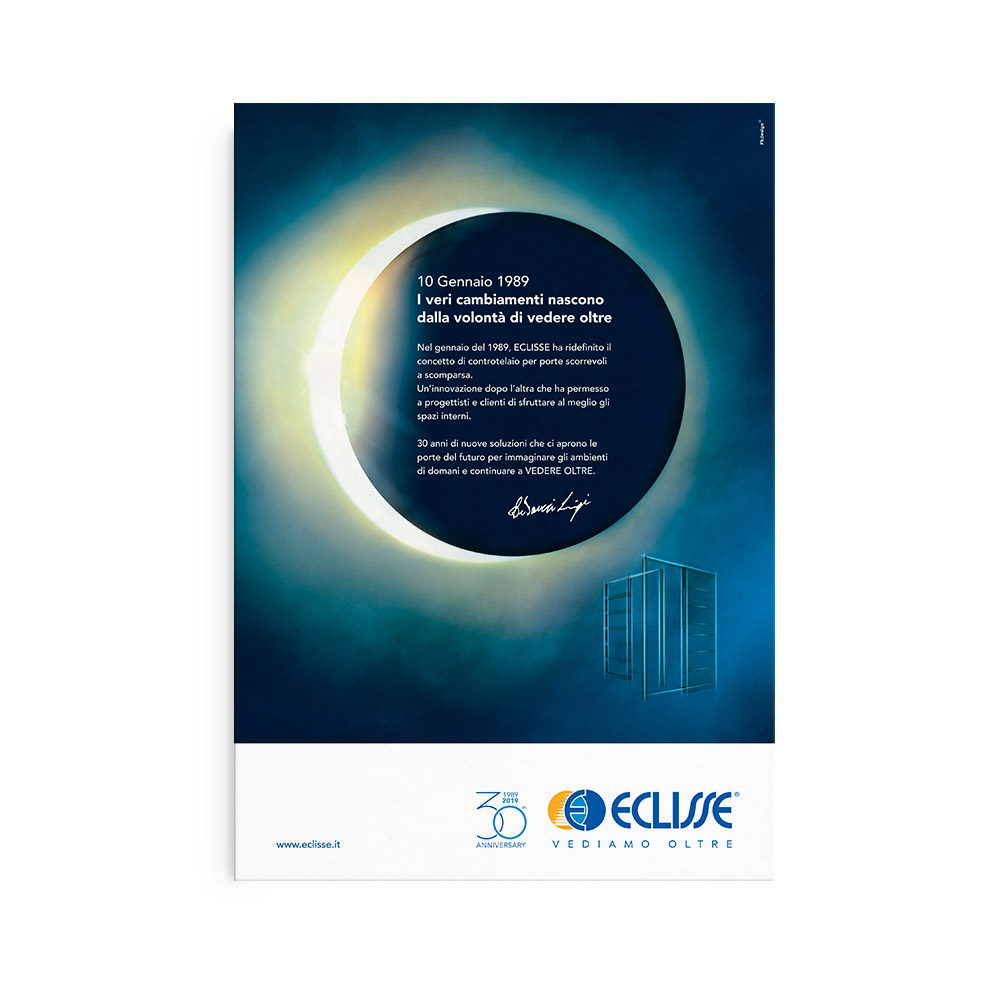 Innovation is a matter of perspectives.

The company's ability to see beyond, and see things from another perspective, led to the creation of Eclisse 40, a door that on one side is splayed by 40° and on the other a door flush with the wall making the frame a design element. The concept of technology and vision of the future has been taken up in the advertising pages. To communicate this innovation we have created an ad hoc logo, a compass that draws the symbol of the 40th anniversary, we have also created an advertising campaign with releases in the major national newspapers.


---